Happy International Women's Day!
Every year, the United Nations chooses a theme to celebrate March 8th. The one for 2022: "Gender equality today for a sustainable tomorrow." A message that sums up a cause that is, obviously, very important to Yoga Jeans.
INTERNATIONAL WOMEN'S DAY, THE YOGA JEANS WAY

Customers or employees, at YJ, women are celebrated 365 days a year.
Did you know that
most of our team
—
72%
to be precise—is
made up of women
? Seamstresses, designers, and executives: Each one plays a crucial role in the company's mission and success. Want to meet the amazing women behind your favourite jeans? Get to know them
here
! Quick warning: You will want to be best friends with all of them.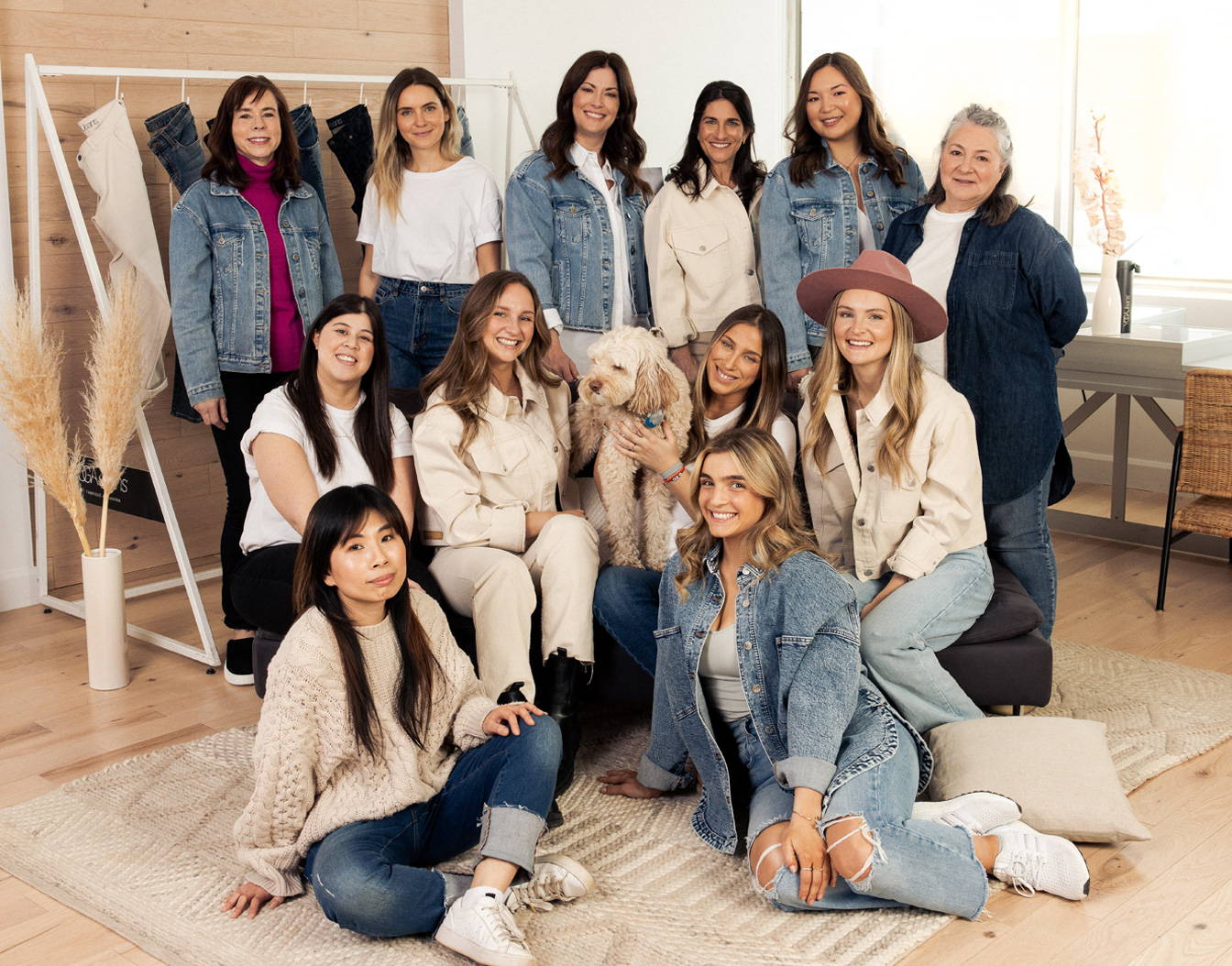 Before we tell you how we operate, here's a troubling fact: 75% of worldwide garment workers are women, and only 2% of them make a living wage. That's not how we do things at YJ.

Many of our clothes are made at our factory in Beauce, where 81% of our employees are women and where work norms are in accordance with provincial laws. For our offshore factories, they're all WRAP-certified. What does it mean? It means that they and their partners must comply with a strict code of conduct ensuring living wages and humane working conditions.

When it comes to our jeans, our love for women is loud and clear. It's at the core of our DNA and translates, first and foremost, through comfort—a word which, for us, is synonymous with freedom. Freedom of the body, freedom of movement, freedom to simply be.

Our jeans feature a four-way stretch fabric to hug the curves without ever constricting them. How it usually goes: You put your Yoga Jeans on, then you feel beautiful and powerful and finally, you just forget about them, because they're that comfortable. And right there is the secret to great jeans—when they make your life easier, not harder.

WOMEN IN DENIM: A SYMBOL OF FEMINISM

What would International Women's Day be without a history lesson?

Almost exclusively worn by men since their creation in the 1800s, jeans only made their way into women's closets during WWI, when women entered the workforce en masse as men were sent to the front.

Their popularity only grew stronger in the 1930s when famous actresses, like Ginger Rogers, started wearing them in public and a decade later, when Rosie the Riveter, clad in denim, became a cultural icon of WWII. During the 1950s, thanks to movies like Rebel Without a Cause and The Misfits, jeans became the uniform of the rebellious youth, foreshadowing the social upheavals that would take place in the 1960s and 1970s. During those years, both men and women wore jeans which, in turn, made denim pants a major symbol of counter-culture and gender equality.

A good story to remember every time you'll sport your Yoga Jeans, on March 8th or every other day of the year.
To know more about the our blogger :
Instagram
Personal IG account :
@veryjoelle