Throughout the years, Yoga Jeans has collaborated with many very talented photographers.

We are happy to turn the camera around and introduce you to the portraits of the inspiring, beautiful, energetic and strong women & entrepreneurs behind the lens.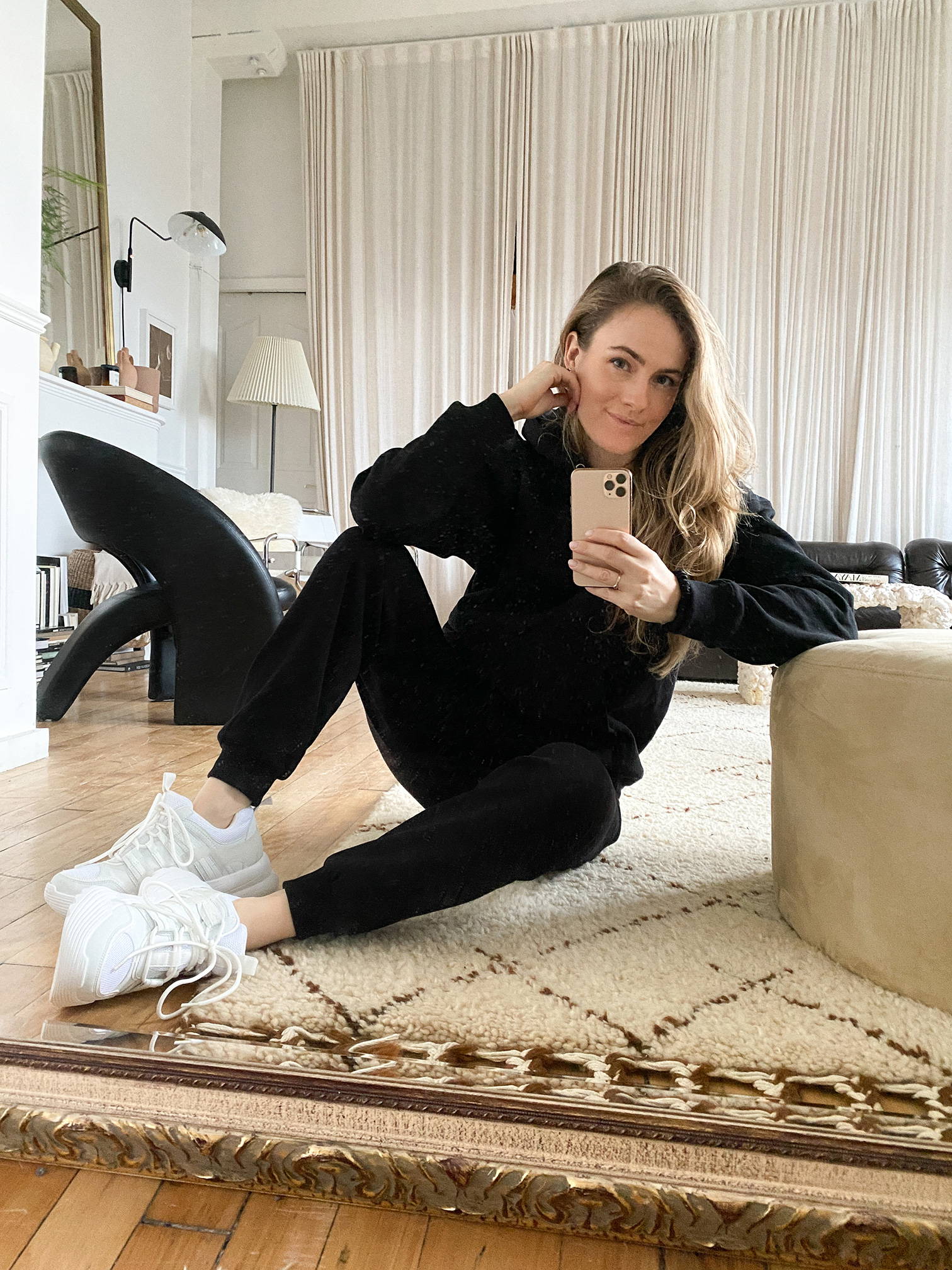 For our Holiday '20 campaign and for our ACTIVE X YOGA JEANS
Loungewear collections
, we collaborated with the amazing Ashley Klassen. She is a professional editorial and commercial photographer and artistic director. Always travelling between Toronto and Montreal for new projects, Ashley is a passionate artist who has a strong desire to communicate her art through her camera lens.
Our photoshoot took place in the beautiful and unique Montreal studio SOL Atelier, of which Ashley is the owner and interior designer. If you are like us, not only will you fall in love with the studio space itself, but its vintage furniture will also make you wish that you lived there.
At Yoga Jeans we always strive to make women feel beautiful and strong. We were able to embrace this feeling with Ashley's help. She cherishes similar values to our company and is a self-employed "boss lady". Her work is amazing, she really focuses on the soul and wants to make her subject shine. This is why working with Ashley was such an inspiring and unique experience.
INTERVIEW Get to know her betteR

Q1. Introduce yourself in a few words & since when were you interested in photography?

A: «From music to photography to interior design- creativity arises in many different forms of expression in my life. Photography specifically became a new creative outlet for me in 2018 when I was stepping out of being a content creator/marketer at a digital media agency in Toronto. But I've always loved visual art since I was very young.»
Q2. What makes you passionate about photography?
A: «My favourite subject to photograph is women. I'm passionate about the human soul and authenticity, and I work mainly with women because I think there's a vulnerability and trust we share. I'm driven by the challenge and effortlessness of capturing genuine expressions that speak the essence of each unique soul. That aura you feel in real life is difficult to snap in just one shot and it's a beautiful combo of mood setting, getting to know someone, and seeing them shine for who they are which makes me passionate about photographing women in their best light.»

Q3. Your favorite camera, the one you can't live without?

A: «I'm a super minimalist when it comes to gear...I've only had one camera -
my trusty Canon 5D.»

Q4. How would you describe your style of photography (your aesthetics, your signature, etc.)?

A: «Effortless, sensual, authentic.»

Q5. What are your greatest sources of inspiration? (architecture, books, Instagram account, photographers, etc.)

A: «I often look to Alexandra Nataf, photographer, for her vision and treatment of photography. Lara Jade is another inspiring woman, Athena Calderone is another multifaceted talent who inspires me. And of course, good ol' pinterest feed.»
Q6. When a company approaches you for collaboration, what are you looking for in terms of values?

A: «I look for if we're aligned aesthetically mainly, but inclusivity, kindness, and passion are important values for me.»

Q7. What does your Self-Care routine look like?

A: «Lots of sleep, alone time, candles and a luxurious skincare routine, kundalini mantras, water, and grace.»

Q8. Your top 3 places that you dream about:

A: «Coqui Coqui, Coba, Mexico...I've visited once and it's still one of the best experiences of my life!
Holbox, Mexico. Mozambique, Africa.»

Q9. Your GO-TO jeans (Skinny jeans, Girlfriend Jeans, Wide Jeans, etc.)

A: «Extra highrise anything! »
Q10. Which women inspires you?

A: «My friends! I love them so much, they have the biggest hearts, we have such a special bond and are sooo different yet so much the same. I'm so grateful for my girlfriends! My mom also inspires me to be a compassionate loving human - nothing compares to mom. »

Q11. In closing, if you had to describe Yoga Jeans in three words, you would say:

A: «Comfortable, surprising (like a wow-didn't know jeans could be this
comfy surprising), stylish.»

To know more about the artist :
Instagram
Personal IG account :
@kla_ssh